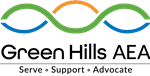 Students at Griswold High School dug into researching the history behind the Green Hills AEA building in Council Bluffs.  It was previously a Nike missile site and the students unearthed information, oral histories and images to help tell the story.
Project Details: AEA Nike Missile Site Project
Green Hills Area Education Agency
High school students from Griswold CSD.  
Social studies, history, organization, communication, media production
Skills Strengthened:
Communication, organization, work skills, project management, video production. 
Watch the video recap of this project.